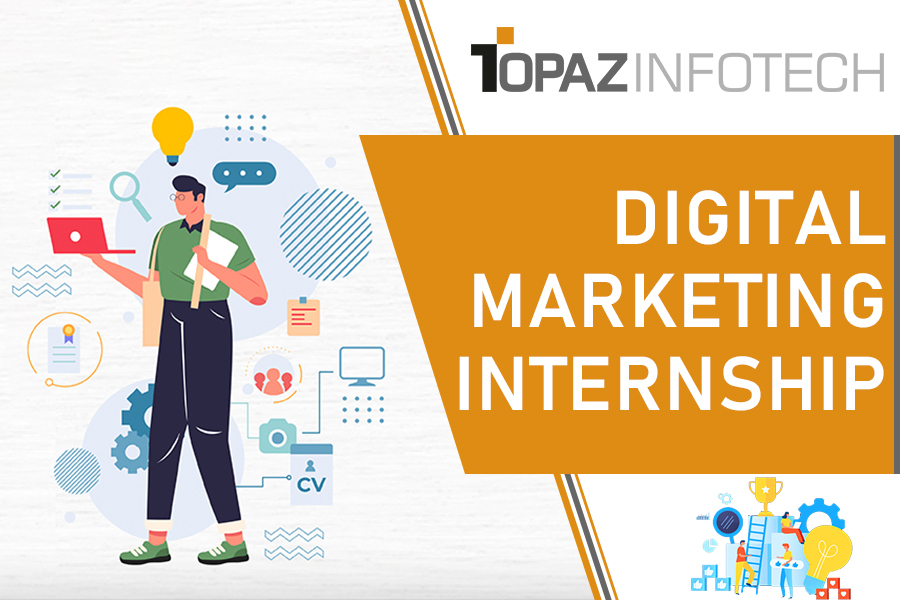 Best Advantages Of Digital Marketing Internship
Today, a growing number of young people are making significant achievements in the digital marketing industry. One of the most efficient (and least costly) ways to improve your job prospects is to do an internship. A digital marketing internship may give you the hands-on experience you need to obtain more profound knowledge of complicated issues such as content marketing, search engine optimization (SEO), and website building. This will assist you in expanding your professional network and developing a greater interest in SEO internship Ahmadabad. Find out what a digital marketing internship entails and the advantages it offers.
As A Digital Marketing Intern, What Is Expected Of You?
A digital marketing internship is a unique opportunity to obtain the essential skills and real-world experience required to flourish digital marketing. To qualify for a digital marketing internship, you must also fulfil specific educational prerequisites. Generally, you must be enrolled in a Bachelor's or Master's degree program at an approved institution or college, or you must have just graduated within the preceding year.
A Digital Marketing Intern's Duties and Responsibilities
Many tasks and responsibilities might be assigned to you during an internship in digital marketing certified at an agency. Interns are expected to collaborate with other team members to create digital marketing strategies and content that assist in accomplishing particular client goals and objectives if approved. There will also be a lot of coding and content creation by interns. If they want to enhance their content marketing strategy, they'll need to look at data analytics reports and see what works and what doesn't.
For your Internship, you will also be expected to plan and execute successful social media strategies to help customers discover new methods to advertise their brand. Interns may also help with email marketing for campaigns and creating monthly reports for customers, among other vital responsibilities. These duties not only provide you the chance to learn a lot, but you can also use the knowledge you gain in different ways. You may improve your competitive edge in your industry by getting honest feedback from your superiors and using that information to your advantage. With the exact expectations of your co-workers, you may get a taste of what it's like to work in marketing for a company that pays.
Talents and Abilities for a Digital Marketing Internship
Specific skills and talents are required for an internship in a digital marketing firm. To qualify, you must have at least a Bachelor's or Master's degree in a related field, such as digital marketing, journalism, communications, or media. Social networking networks, Adobe Photoshop, and content management systems like WordPress are also required.
When conducting interviews for a digital marketing internship, a digital marketing business will search for individuals who have strong communication skills, both verbally and in writing, and the ability to prioritize tasks. You'll need to work well with people from different levels of the organization since you'll be collaborating on numerous jobs and projects. You'll also need to multitask while working on many projects at once. Multitasking is essential when working in a high-demand and repetitive sector like digital marketing.
Internships in Digital Marketing Have Many Advantages
Getting a foot in the door isn't always straightforward in a business as competitive as digital marketing. It's considerably more challenging to get a position at an established, successful company. An internship might come in handy in this situation. The opportunity to learn from a team of pros is one of the most valuable aspects of a digital marketing internship. In the early stages of your career, finding a digital marketing firm that is ready to take a risk on you might be tough to come by. To succeed in a full-time job, you'll need the experience and training that an internship provides.
An Understanding of Digital Advertising And Marketing
As a digital marketing intern, you'll be able to construct a portfolio that will help you get a job in the future. If you're able to narrow your internship experience down to certain facets of digital marketing, you'll have a leg up on the competition when applying for jobs. There are several reasons why it may be beneficial to construct a portfolio containing the metrics you achieved in your social media or local SEO efforts for customers.
Assembling a Professional Community
An internship might also help you expand your professional network. If you don't have any connections in the field, it might be tough to get a recruiter to even look at your application. According to one LinkedIn survey, many job opportunities are filled via personal or professional networking. In addition to making new connections and learning from more seasoned colleagues in your area, you will get the self-assurance you need to succeed in your chosen job in the future. Find the best SEO agency India.
Conclusion
An internship is necessary if you're a college student or a recent grad without any work experience. You'll be well-equipped for any career path you choose in the future.
After the Internship, you'll have a better idea of what you want to pursue as a profession, what kind of work you'll be doing, how you can succeed, and a host of other things. This indicates that an internship is a crucial step in your professional development, and you should take it.